A1 Tool as a "Customer" of the Local School District
"Board Savvy Superintendent" publication features exemplary collaboration of Leyden District 212 with A1 Tool and other local manufacturers for the mutual benefit of the students, community, and industry. (K-12 Enterprise Part 3: Leyden District 212's Partnership with A1 Tool Company, Board Savvy Superintendent, by Doug Eadie, July 10, 2017).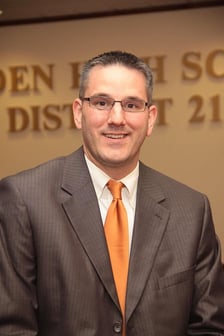 Dr. Nick Polyak, Superintendent at Leyden High School District #212
Referring to the "K-12 Enterprise," expert Doug Eadie discusses Leyden District 212's success under the leadership of Superintendent Dr. Nick Polyak, "by adopting certain traits of successful for-profit organizations, such as engaging in systematic product innovation, paying close attention to customers, and expanding community ownership of the district."
Says Eadie, "A1 Tool and other Leyden business partners are a perfect example of what we might call indirect customers of the K-12 Enterprise. A1 doesn't – like a direct customers would – cut a check directly to Leyden to pay for the preeminent product Leyden supplies: well-trained, highly motivated, work-ready graduates to fill A1 jobs (almost a fifth of A1's current workforce). But you can be sure that A1 and other Leyden business partners pay in less direct, but highly important ways."
The Win-Win
A1 Tool and the other Leyden business partners provide expert input for machinery and tooling, for example, to keep the program on the cutting edge. Leyden manages its customer relations by staying in close contact with its partners in monthly meetings, visiting manufacturing facilities that employ Leyden graduates, and public recognition for the partner/customers for their contributions.
Learn more about the partnership by reading the full article and listening to the podcast while viewing photos. Open and read the article K-12 Enterprise Part 3: Leyden District 212's Partnership with A1 Tool Company, Board Savvy Superintendent, July 10, 2017)