How Customers Benefit from the SET™ vs. LLC Process
What comes to mind when you consider cost-cutting measures for your company? Custom plastic injection molding costs must be high on your priority list if you work in the plastics industry. They are among the most significant investments made by manufacturers of plastic products.
One way to reduce costs is to have mold services based overseas. Your company can send designs to a Low-Cost Country (LCC) to have the molds made.
Many companies lean towards using LCC as the savings can, sometimes, be considerable. But is it worth the savings? The answer is no.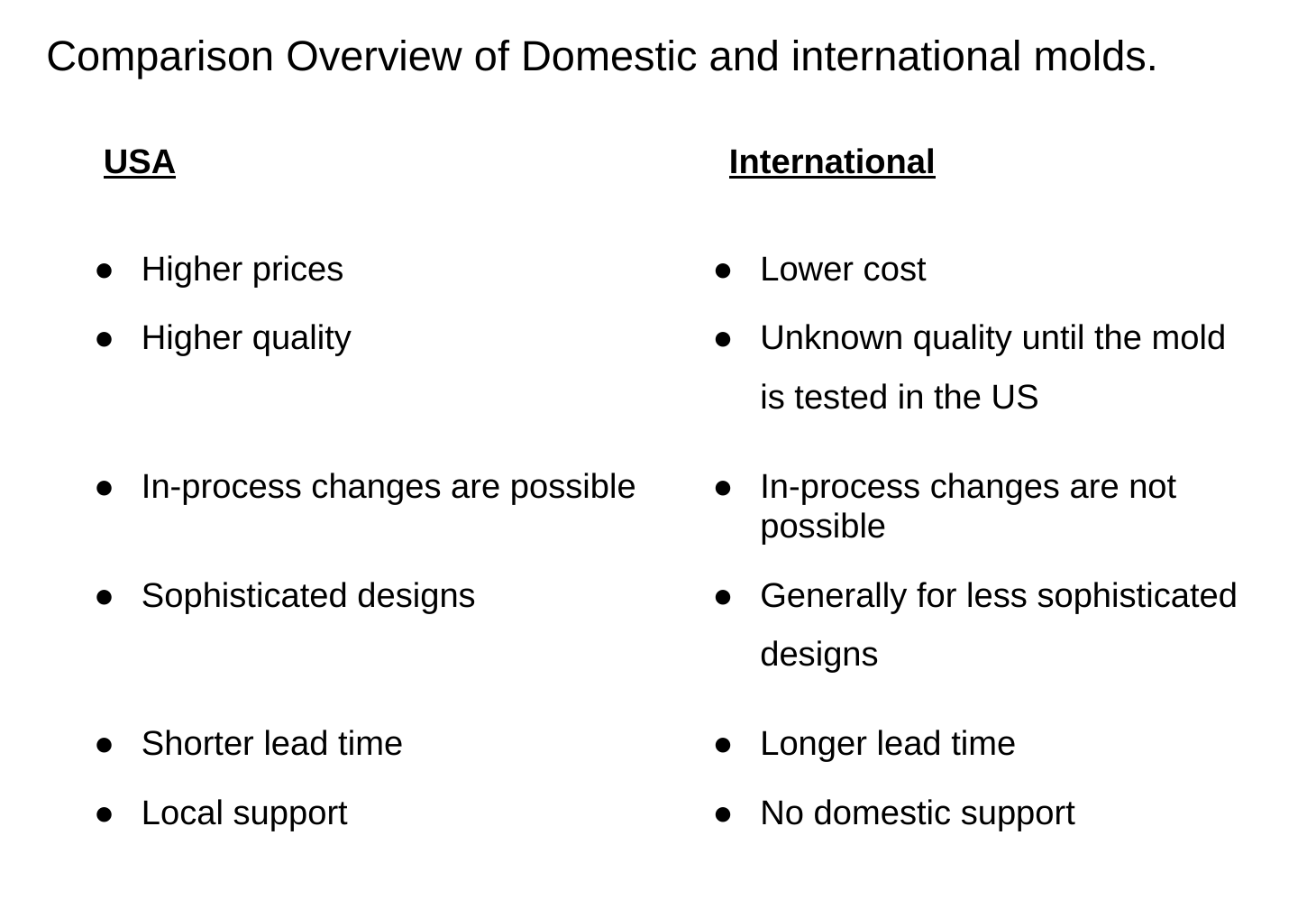 Risks of LCC manufacturing
Most experienced professionals in the plastics industry have heard stories of LCC failures and some, unfortunately, have firsthand experiences. Your overseas service builds a mold to your design only to fail to produce acceptable parts once it arrives at your facility. And since LCC molds don't include domestic support, you incur additional expenses to retool the mold or worse, throw the whole thing away since US shops don't know the mold.
A1 Tool alternative
We have a better way to produce the molds you need using our Supported Economic Tooling (SET™) system.
The SET™ system, developed over the past 24 years, overcomes the frustrations brought about by the LCC supply chain in terms of communication, quality, and time lag. Our hybrid approach combines domestic support with internationally-sourced molds in what we refer to as SET™. We have sourced hundreds of molds this way to multiple Fortune 500 manufacturers.
Why SET™?
A1 Tool has a solid reputation for building superior-quality molds. We parallel this reputation in the development of SET™. All products and the workmanship of the mold meet both domestic and our high-quality craftsmanship standards.
All molds start with the design for manufacturing (DFM) step. After a customer requests a quote (RFQ) for a mold, our experts have a detailed discussion of the mold and part application, including an upfront assessment of the product and needs.
The best result starts with a clearly-planned desired outcome. A team of project managers, design, and plastic engineers use their wealth of experience and the latest technology to develop the right solution for your part.
After producing a DFM, we assign a project manager to monitor the SET™ international mold production on-site. This is to ensure clear and effective communication. Although we only work with proven offshore mold makers who can handle the intricacies of complex molds, having a project manager on-site ensures that production stays on task, on time, and adheres to budget.
Turnover for factory workers is rampant in most LCCs. It's rare to find many mold workers with over five years of experience. Unlike assembly work, mold making is more than just fitting things. It involves knocking off edges, rounding corners, and having an eye for fine details. An experienced project manager on-site ensures a high-quality end product.
In most cases, we ship the resin to our approved offshore mold maker to ensure that the mold is properly tuned during the sample phase. Each sample is attended by the on-site and domestic project managers who provide weekly updates throughout the process. We ship samples from the mold maker, along with dimensional reports, to your facility for approval prior to mold shipment. Shipping via air or sea can be arranged based on cost and timing.
Quality Assurance
High-level quality assurance steps take place once the mold arrives in the US. We disassemble and digitally scan the mold. This eliminates hidden flaws at the component level and validates that the mold was built according to the design.
We encourage you to have your engineers present for the local quality assurance and sampling step. This is the most significant element behind SET™. LCC molds don't include domestic support. Making changes and repairs is usually very expensive since US mold shops don't know the mold. With SET™, you get our quality assurance, workmanship, and local support for the life of the mold.
Once the sampling is to your satisfaction, we perform a complete cleaning of all components, re-assembly, and sample again. You receive a mold that works and delivers quality parts as you expect.
A1 Tool Corp is Your Partner
A1 Tool Corp has been perfecting SET™ for years. We have a strong international alliance that delivers proven performance. We also utilize multiple foreign resources to minimize vulnerability in trade restrictions and material availability.
Our SET™ process overcomes the hidden costs and frustrations of LCC. It provides better products, better value, and a better experience for our customers every time. SET™ is a solid plan for your success.
Want to learn more about our SET™ process? Talk to the Pros at A1 Tool about customized solutions for your needs.